Effective scheduling can often mean the difference between success and stagnation in the fast-paced world of small business management. With appointments to manage, clients to please, and a myriad of tasks to juggle, the need for a reliable scheduling app becomes paramount.
In this digital age, where time is money, finding the best scheduling app for small businesses is no longer a luxury but a necessity. Whether you're a solo entrepreneur, a budding startup, or a well-established company, choosing the right appointment scheduling app can streamline your operations, enhance customer satisfaction, and boost your bottom line.
In this article, we explore the landscape of scheduling apps, evaluate their features, and help you discover the perfect solution to efficiently manage your small business's appointments and bookings.
What is an online appointment scheduling app?
Online scheduling software is based on an interactive digital agenda. Hosted on the web by a third-party company, the agenda is visible to everyone, including your employees and customers. Your customers, in particular, can interact with the software to book appointments online.
The software will automatically show you the time slots available for an appointment based on the availability you or your colleagues have indicated.
Easy to use, involving no registration for customers, and operating with just a few clicks, these software programs simplify booking procedures. As we shall see, they can be put to good use as part of your company's digital transformation.
Why use online appointment scheduling apps?
We've identified at least six good reasons to invest in an online appointment scheduler.
Save time and money
First and foremost, a scheduling tool enables you to automate a relatively repetitive task that would otherwise have to be carried out by a human. In this way, an online appointment scheduling app saves you money.
On the one hand, it avoids the need to employ someone specifically dedicated to this work. On the other hand, for entrepreneurs who haven't yet delegated this task, it means they don't have to take the calls themselves.
If you're in the latter situation, it saves you time. It also allows you to concentrate your efforts on your core business and on your highest value-added tasks.
In the former case, it can even save you money. Sometimes, these savings are necessary for a business's survival or for launching a new activity.
Visually show your customers every available slot.
Online appointment scheduling software is designed to display your availability to users wishing to book an appointment. These availabilities are displayed on their computer or phone screen and updated in real time.
This enables each customer to see at a glance which time slot is currently available and to be sure of making the best decision.
Offer customers 24-hour appointment scheduling
What's more, unlike a human, software doesn't need to sleep. Online appointment scheduling app works day and night. This is obviously a useful asset when it comes to making it easier for your customers to book appointments. This is even more true if their working hours coincide with yours, otherwise, they'll be calling you on their breaks.
Automatically alert your contacts to your last-minute availability
An online appointment scheduling app can also be set up with automatic alerts. Let's imagine that one of your customers asks to be informed of upcoming appointments slots freeing up.
If someone cancels their appointment for the following day, your customer on the waiting list will be automatically informed. They can then choose to book the available time slot or decline the offer.
If you combine the two functionalities just described, you can limit the risk of scheduling conflicts. Let's imagine that one of your customers cancels his evening appointment for the following day.
After office hours, you won't be able to phone the other customers on your waiting list to let them know. You'll probably miss an opportunity to rebook. On the other hand, with online appointment scheduling software, your customers on the waiting list will automatically be informed of the cancellation.
Even late in the evening, one of them will be able to validate a new appointment for the following day, replacing the old schedule. It's a win-win situation for you and your customers.
Integrate the software with your calendar application for simplified time management
The appointment automation system can be further perfected to make your day-to-day work easier and more organized. In fact, it's now possible to integrate your online appointment scheduling software with your calendar application, such as Google Calendar.
This integration will enable your application to enter your next appointments into your schedule autonomously and in real-time. Time savings, simplicity, and reduced risk of error are the advantages of such integration between your tools.
Schedule appointment reminders to limit the risk of forgetting
Finally, this feature is the customer-side counterpart of the previous one. Online appointment scheduling software can be configured to automatically send reminders to your customers.
For example, you can require your application to send SMS reminders 24 hours before an appointment. This function reduces the risk of forgetfulness and lost sales for you.
Now let's discuss the 15 best appointment scheduling apps for small businesses.
Sprintful
Sprintful is the best appointment-scheduling app for small businesses. It is considered the best appointment-scheduling software. Its user-friendly interface, variety of features, and inexpensive pricing plans are exactly what you should be looking for in the appointment scheduler.
Sprintful provides calendar synchronization, third-party integrations, team management tools, and an accessible booking page for your prospects to connect with you. It serves as your personal assistant by automating customized email notifications/SMS reminders for every event occurrence or modification in your calendar.
Sprintful offers as much to small business owners as it does to individuals. You can synchronize your team calendar to manage team assignments as per their availability and add/remove team members for prioritized booking with its round-robin algorithm support. Any team member can have their own booking page featuring their respective expertise.
Sprintful functions as your all-in-one support system with features like payment proceed facility, video conferencing, events, group session arrangement, and unparalleled appointment scheduling services.
This best appointment scheduling app has much to offer for enterprise customers, including audit trails and SSO.
Booking page types (event types)
Sprintful supports one-on-one meetings, group sessions, and multiple round-robin pooling strategies (flexible, strict, and prioritized assignments). Additionally, team directory and mutual team availability are supported.
Sprintful Details
Sprintful features:
Calendar scheduling
Calendar management
Automated scheduling
Appointment scheduling
Self-scheduling
Real-time calendar sync
Custom branding
Automated reminders and alerts
Custom notifications
Calendar embedding
Custom CSS
Team collaboration
Third-party integrations
Sprintful integrates with:
Google Calendar
Outlook Calendar
Google Meet
Zoom
Slack
Microsoft Teams
Custom Domain
Zapier
This is why Sprintful is considered the best scheduling app.
Sprintful pricing
Sprintful pricing plans:
Basic - $9/month
Professional - $19/month
Business - $49/month
Enterprise - (100+ users) at request
Sprintful is a one-stop shop for your meeting scheduling. It eliminates the need for multiple software to meet different business needs. Sprintful is the best scheduling app for small business that you should try.
Vyte
Quick and easy, Vyte lets you send an instant invitation to your guests to make an appointment. You can also quickly find out which days your guests are available.
This allows you, for example, to propose a meeting date that suits all participants from your own agenda, keeping the back-and-forth by email to a minimum.
Vyte is integrated with various calendar platforms like Google Calendar, Outlook, and others, making it convenient for users to coordinate schedules.
Vyte features
This appointment scheduling tool offers:
Customization of your own Vyte page URL
Prevention of double bookings
Seamless time zone handling
It is great for an efficient scheduling process.
Vyte pricing
Vyte offers the following paid plans:
Free plan - $0
Pro plan - $8/month
Enterprise - custom pricing
It is one of the best scheduling apps.
Framadate
Framadate is one of the best free scheduling apps. It allows you to create a survey and send the link to your customers and colleagues. The software can also be used as a decision-making tool for remote meetings.
This tool is designed to respect user privacy and allows for anonymous participation in polls without requiring users to create accounts or share personal information.
With this scheduling app, you can program your meeting dates or choose the topics to discuss with your guests. The software is compatible with several web browsers (Google Chrome 19, Opera 11, Firefox 12).
Framadate features
Features of Framadate are simple:
Creating polls
Scheduling meetings
Visualizing submissions as graphs
If you don't need advanced features, Framadate is a suitable free solution.
Framadate pricing
Framadate is completely free. You can support it by donating. It is one of the best free scheduling apps.
Xoyondo
Xoyondo lets you quickly survey the availability of meeting participants. You create the event, and everyone receives their invitation and votes for the time slots they want. Then, you determine the most suitable date.
Overall, Xoyondo is a handy tool for scheduling events or meetings with multiple participants, as it streamlines the process of finding a mutually convenient time and date. Moreover, you can create additional information for participants or share files with your colleagues.
Xoyondo features
Features of Xoyondo are simple:
Personal Xoyondo page
Unlimited polls and participants
Individual email invitations
If you don't need advanced features, Xoyondo is another good free solution.
Xoyondo pricing
Xoyondo offers the following paid plans:
Standard - always free
Premium - $29/year
Business - $55/user/year
Xoyondo is a low-budget tool, so there's no need to sign up or break the bank to create your participation survey!
Doodle
Doodle lets you synchronize a scheduled event with several calendars at once. This makes it easy for you to share your events with your colleagues. Thanks to its multiple options, you can also easily find out the availability of your guests before setting up a joint meeting.
A free version of Doodle enables you to take advantage of all its features. The interface of this meeting organizer is simple and easy to use. The free version offers only a few options, which can sometimes be sufficient.
The free version of Doodle offers poll creation and results sharing via email or a link. However, customization options are limited. A 14-day free trial is available so you can discover the various features of this meeting tool before buying it.
If you want to use Doodle to conduct a survey, you can benefit from more comprehensive features by choosing the paid version. With the paid version, you can manage a project with your colleagues, schedule meetings, and use a synchronization service with your calendar.
Doodle features
Features of Doodle:
Access invitation
Appointment reminders
Custom invites
Doodle is a good scheduling software for small businesses.
Doodle pricing
Doodle offers the following paid plans:
Free - $0
Pro - $14.95/user/month
Team - $19.95/user/month
Doodle is one of the best scheduling apps.
NeedToMeet
NeedToMeet is an online scheduling and appointment planning tool. It is designed to simplify the process of finding a suitable time for meetings, events, or appointments when coordinating with multiple people. NeedToMeet lets you organize your meetings in 3 easy steps:
Enter meeting information and details
Suggest dates and times
Send invitations to the people of your choice
Guests are notified by email, and you are notified when one of them responds. Thanks to NeedToMeet, you can also see their comments and suggestions for modifying the meeting at a glance.
NeedToMeet features
Features of NeedToMeet:
Custom URL
Unlimited time slots
Dashboard
You should try this scheduling app, as it is worth your attention.
NeedToMeet pricing
NeedToMeet offers the following paid plans:
Standard - $0
Advanced - $12/user/year
Premium - $19/user/year
It also offers a 14-day trial.
MeetingBooster
MeetingBooster is a software solution designed to help organizations improve their meeting management and productivity. It was developed by a company called MatchWare.
MeetingBooster offers various features to streamline the entire meeting process, from planning and scheduling meetings to capturing meeting minutes and action items. MeetingBooster is a solution that makes your life easier:
Before the meeting. You can easily plan the meeting and assign preparatory tasks to participants.
During the meeting. MeetingBooster lets you take notes instantly, whether you're meeting in person or by videoconference.
After the meeting. You can analyze your meeting, easily store and find all associated files, and quickly assign tasks to follow up on discussions.
It is one of the best appointment-scheduling apps.
MeetingBooster features
Features of MeetingBooster:
Agenda editor
Meeting minutes
Meeting analytics
This tool will provide you with unlimited appointments.
MeetingBooster pricing
MeetingBooster offers a free trial. To get to know pricing plans, you must contact them.
Acuity Scheduling
Acuity Scheduling acts as a personal online assistant. It offers the user a personalized booking page where customers can see availability in real-time and thus book appointments online.
The design of this scheduling app is kept simple, which provides clarity. It also offers round-the-clock availability control to the companies that use it.
Multiple locations and employees can be managed. It is crucial that customers only see what they are supposed to see. Time tracking allows appointments to be easily adjusted to different time zones, canceled, or rescheduled.
Reminders can be sent to customers so they do not forget the appointment. To capture all relevant customer data directly, Acuity Scheduling allows recording forms to be filled out directly online when appointments are made.
Acuity Scheduling features
Features of Acuity Scheduling:
Confirmation, reminder, and follow-up emails
Custom API & CSS for developers
Advanced reporting about appointments, no-shows, & performance
No wonder it is one of the most popular appointment-scheduling apps.
Acuity Scheduling pricing
Acuity Scheduling paid plans:
Emerging - $16/month
Growing - $27/month
Powerhouse - $49/month
Acuity Scheduling is a great appointment-scheduling software.
Calendly
Calendly is a tool for organizing appointments, meetings, and other events. It features an intuitive interface designed to reduce planning steps. It can be used by various organizations, from the self-employed to major accounts, associations, and public bodies.
Calendly is based on automated processes. All you have to do is set the organizational conditions for each event, such as its duration. The system coordinates new entries, taking into account other appointments. Participants confirm their attendance. If necessary, Calendly reschedules appointments.
Calendly features
Calendly offers:
Intuitive interface for booking without back-and-forth emails
Range of scheduling types
Automatic email notifications and reminders
Calendly is one of the best scheduling apps.
Calendly pricing
Calendly offers the following paid plans:
Basic - $0
Essentials - $8/user/month
Professional - $12/user/month
Teams - $16/user/month
This scheduling software is worth your attention.
Setmore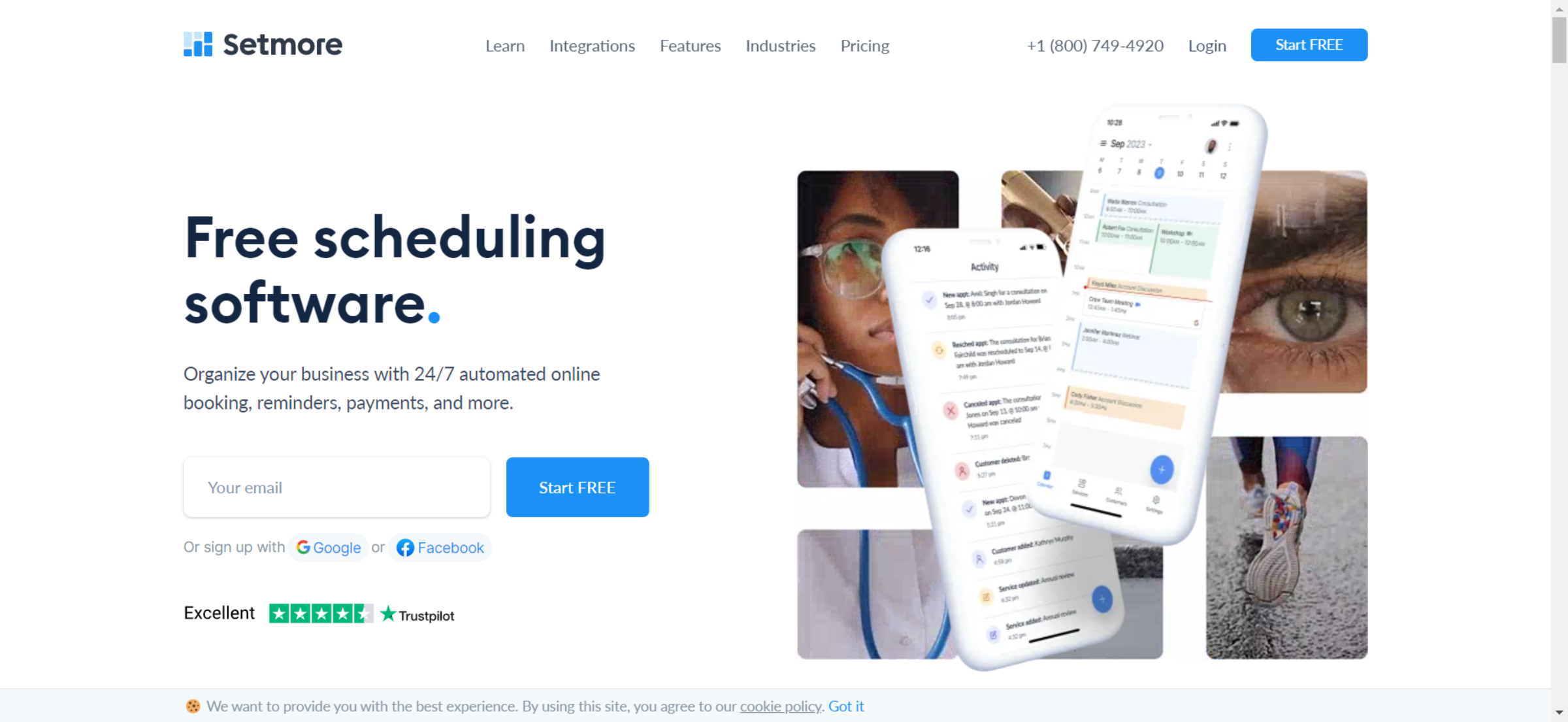 Setmore is a cloud-based appointment scheduling software designed to help businesses and professionals manage their appointments, bookings, and customer interactions. It provides an online platform that enables users to easily create, customize, and share their availability for appointments, meetings, and services with clients or customers.
Setmore features
Key features of Setmore:
Customizable booking pages
Appointment reminders
Social media integrations for Facebook and Instagram
It offers excellent calendar syncing capabilities.
Setmore pricing
Setmore offers the following paid plans:
Free - $0
Pro - $5 user/month
Team - $5 user/month
It is great for one-on-one meetings.
Square Appointments
Square Appointments is an appointment-scheduling app developed by Square, a company known for providing payment and business management solutions. It lets clients book appointments online, offering a convenient and hassle-free experience. Clients can view available time slots, choose the desired service, and select a suitable appointment time. Additionally, businesses using Square Appointments can customize their booking pages, set service durations, and specify availability to ensure accurate scheduling.
It integrates with other Square products, allowing payment processing features and financial management within the same ecosystem. With it, you can accept online payments before or after meetings.
Square Appointments features
Key features of Square Appointments:
Point of sale
Easy client management
Retail and inventory management
Small business owners often choose this option.
Square Appointments pricing
Square Appointments offers the following paid plans:
Free - $0
Plus - $29
Premium - $69
This software is a good choice for scheduling appointments.
Chili Piper
Chili Piper is tailored to oversee the schedules of individuals engaged in B2B sales. It offers seamless one-click appointment scheduling and facilitates the smooth exchange of information among various meeting participants.
You can effortlessly arrange meetings by updating your CRM system with contact information. Additionally, you can optimize your meeting calendar and establish reminders for each appointment.
Users who have utilized Chili Piper have expressed their satisfaction with the experience. One of the standout features, highly valued by users, is the capability to personalize reminders for yourself and other participants.
Chili Piper features
Key features of Chili Piper:
Data analysis and reporting
Automated real-time lead routing and waitlisting for busy sales teams
Live meeting options
It is great for recurring appointments.
Chili Piper pricing
Chili Piper paid plans:
Instant Booker - $15/user/month
Handoff - $25 user/month
Form Concierge - $30 user/month
Distro - $30 user/month
It is one of the best appointment-scheduling apps.
Zoho Bookings
Zoho Bookings is one of the best scheduling apps for small businesses aimed at simplifying appointment coordination for businesses and professionals while enhancing schedule management efficiency. This booking software boasts various features geared towards streamlining meeting management and elevating the customer experience.
With Zoho Bookings, clients and customers can effortlessly schedule online meetings with businesses and professionals. This eradicates the hassle of endless back-and-forth communication to pinpoint suitable meeting times.
Moreover, this booking software seamlessly integrates with popular calendar applications such as Google Calendar and iCal, guaranteeing automatic synchronization of meetings with the user's existing schedule.
Zoho Bookings features
Distinctive features of Zoho Bookings:
Credit card processing
Reporting & statistics
Customizable Branding
With this scheduling tool, you can easily accept payments.
Zoho Bookings pricing
Zoho Bookings paid plans:
Basic - €6/staff/month
Premium - €9/staff/month
This appointment scheduling app allows you to automatically reschedule appointments.
CalendarHero
CalendarHero empowers you to effortlessly arrange meetings for your entire team by gaining insights into their schedules. Naturally, there's also the option to submit an appointment request, allowing potential participants to propose alternative times or days.
The personalized URL provided by CalendarHero offers users unparalleled flexibility and control over their scheduling process.
CalendarHero features
This scheduling app offers:
AI-powered scheduling assistant for virtual and in-person meetings
Automatic time zone detection
Customizable branding
It is one of the best appointment-scheduling apps.
CalendarHero pricing
CalendarHero paid plans:
Basic - $0
Professional - $8/month
Team - $12/user/month
This appointment scheduler is worth your attention.
Rallly
Rallly represents a no-cost appointment scheduler, offering the capability to arrange meetings while considering the preferences of all participants involved. Each participant can engage in meeting polls, facilitating the selection of the most suitable options. This best appointment-scheduling software for small businesses finalizes the meeting schedule only after identifying the ideal time for all participants.
Rallly simplifies the process of scheduling appointments, making it exceptionally straightforward. Its user-friendly interface enables you to create, share, and manage meeting polls in mere minutes. Regardless of whether your team utilizes a desktop computer, tablet, or smartphone, Rallly's responsive design ensures a seamless and intuitive scheduling experience across all devices.
Creating a meeting poll is now a breeze, following a straightforward 1-2-3 process. You simply need to specify potential meeting dates and times, provide a brief description, and you're good to go. Once your meeting poll is prepared, effortlessly share it with your colleagues, clients, or friends.
Rallly features
Rallly offers:
Voting feature to find the right time for large groups
Zapier integration can connect Rallly to popular calendar options
Shared event pages
Rally is a good option for effective employee scheduling.
Rallly pricing
Rallly paid plans:
Rallly makes the booking process really easy.
Conclusion
Finding the best scheduling app for small business is a crucial step toward enhancing efficiency, customer satisfaction, and overall success. The choice ultimately depends on your specific needs and preferences. Before making a decision, consider factors such as the size of your business, your industry, budget constraints, and the features that are most important to you.
It's essential to thoroughly research and test out different scheduling apps for small businesses to determine which one aligns best with your business objectives. Additionally, remember that technology and software options are continually evolving, so periodically reassessing your scheduling app choice is a good practice to ensure you stay up-to-date with the latest features and improvements.
Ultimately, the best scheduling tool for your small business is the one that streamlines your appointment booking process, saves you time, reduces scheduling conflicts, and enhances the overall customer experience. Make an informed decision, and your business will reap the rewards of efficient appointment management.